Well, I couldn't be happier that February is behind us! That being said, reading a fun rom com last month did help save it! I've been really trying to alternate my mystery/thrillers and my lighter, fun reads, but DARN those mysteries have been good lately! Have you read any good ones?? (DO NOT feed into my addiction!)
So I'm curious … how do you all feel about romance novels? I have a couple thoughts on the matter. First, I personally think they get a bad rap. There are so, so many different versions of a romance novel it's hard to imagine that people could even group them all into one category. From Outlander to some really brilliant YA novels, these books run the gamut. Secondly, 50 Shades of Grey didn't blow the world up on its own … people bought it. And regardless of the poor writing (my opinion) and wildly unrealistic plot lines (she only owns an old school flip phone??), people clearly liked it. Lastly, I think the rom-com sub-genre has really picked up its game the last couple years and, frankly, there are some really adorable, fun books out there labeled "romance." And if you've decided it isn't for you, you're missing out on a ton of fantastic books!
99 Percent Mine Book Club Discussion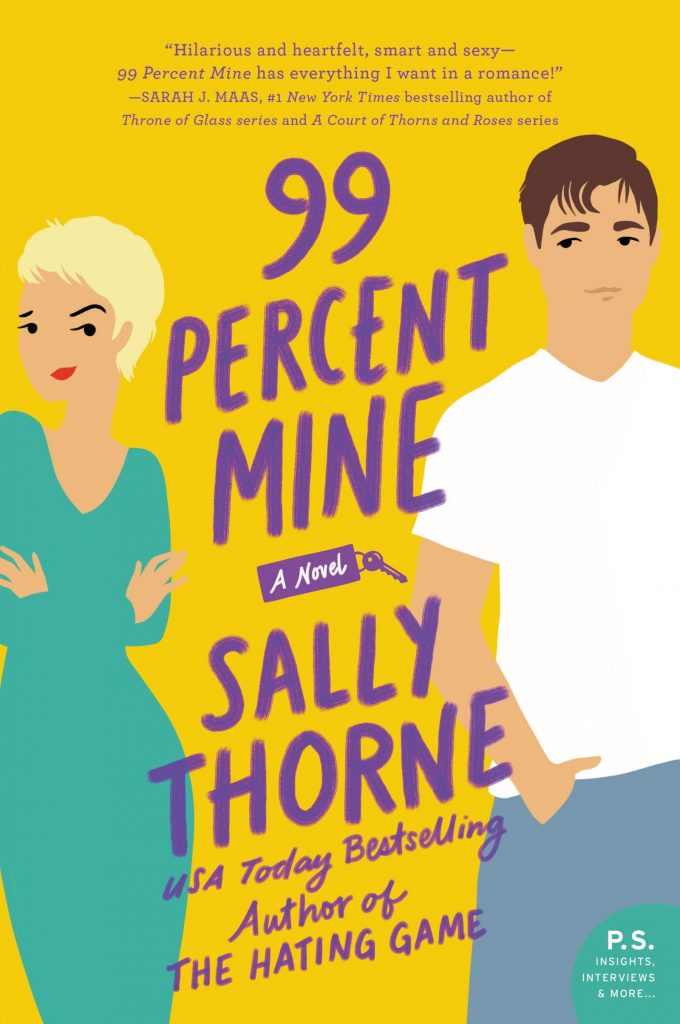 We picked 99 Percent Mine for February for obvious reasons. Love and February go together like peanut butter and jelly (or toothpaste and orange juice if you're single). I first stumbled upon our author, Sally Thorne, in an Amazon deep dive (do you all do this? Amazon just gets me.). Her first book, The Hating Game, had some good reviews so I figured I'd give it a shot. Fifteen rereads later (I wish I was kidding), it is one of my all time favorite books. (And I'm not alone, as shown by the private Facebook group I belong to called The Flamethrowers … I beg you not to judge.) Sally is an absolute doll! She lives in Australia, really interacts with her readers, and is adorably (and unnecessarily) insecure about her writing.
Needless to say, I couldn't wait to get my hands on her second novel. 99 Percent Mine is very different from The Hating Game…not bad or good, just different. Darcy and her twin brother, Jamie, grew up with the adorable Tom Valeska. But Tom was Jamie's best friend first and Darcy kept her distance, despite her long held attraction. Fast forward and Tom is renovating Darcy and Jamie's grandmother's cottage and Darcy is there to supervise. Surprise! Tom may like her too (*heart eyes*).
I thought this book had TONS of angst. And, to be honest, that's my sweet spot. While I didn't love it as much as The Hating Game (have I told you about The Hating Game? Just checking.), I worship Sally's writing and her ability to convey in a funny and real way her characters' feelings.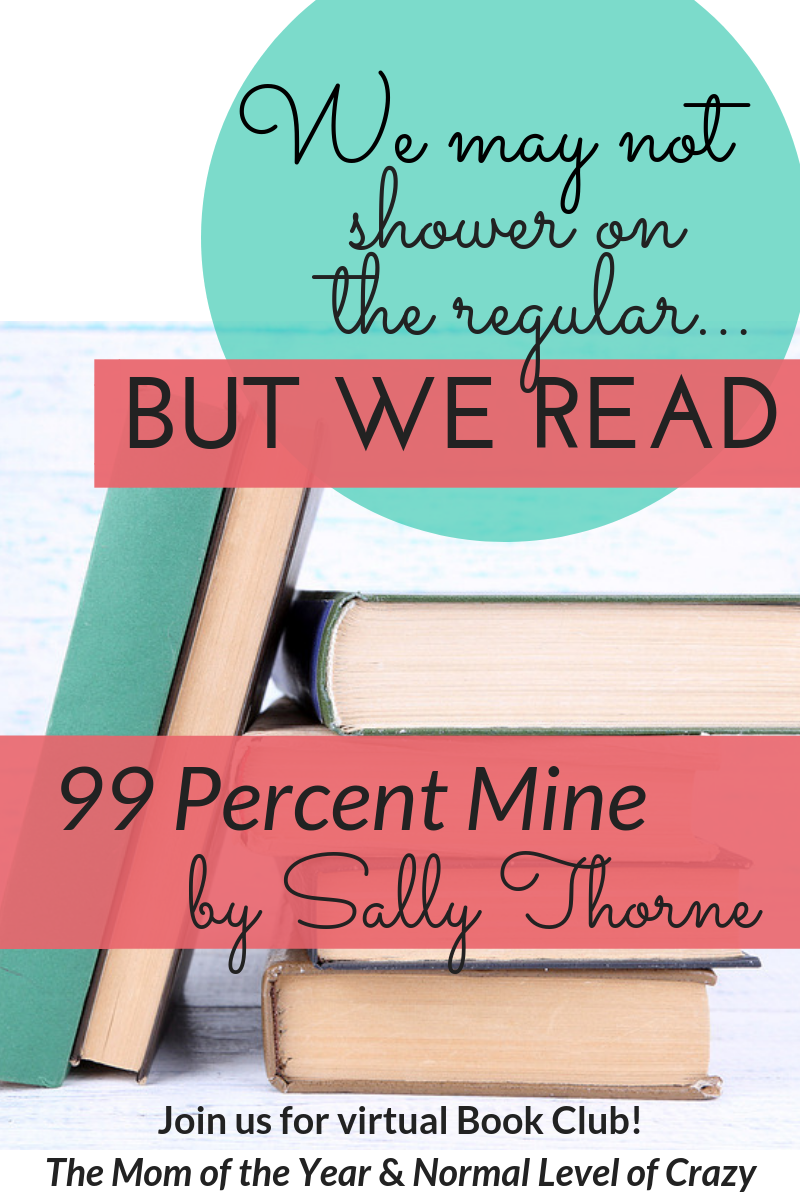 We would love to hear your thoughts on this one!
How do you like Sally's writing? Any quotes in particular that you adored in 99 Percent Mine?
Here's one of my favs:
"There's still one solid-gold good man left out there. He's the high tide mark in a world of inch-deep puddles."
Ok, one more … about Tom's hair:
"The texture is like a romance novel that's fallen into the bath, then dried: vaguely sexual crinkle waves with the occasional curled edge and dog-ear. I want to jam my hand in it and make a gentle fist."
OK, LAST ONE:
"I'm this filthy with you. Only you. And you're not just 'half-decent'. I've seen Michelangelo's David in Florence. You make him look like a pin-dicked garden gnome."
(If you asked me to quote my favorite The Hating Game quotes, I would just send you the book. Did I mention The Hating Game again??)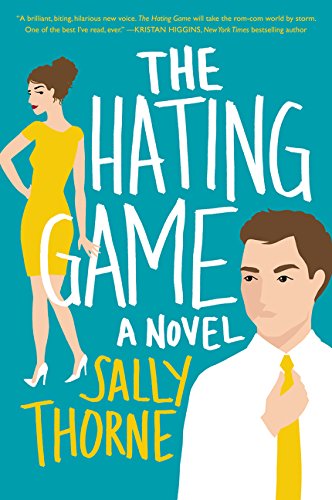 As always, we are giving away a copy of next month's pick! Just leave a comment on this post telling us you'd love to win it before 3/8/19, 5:30am ET, and as long as you are 18 or above and live in the Continental United States, you are eligible to win! We'll randomly select a recipient from all entrants and notify the winner!
**********************************************************
MOVING ON TO NEXT MONTH'S PICK!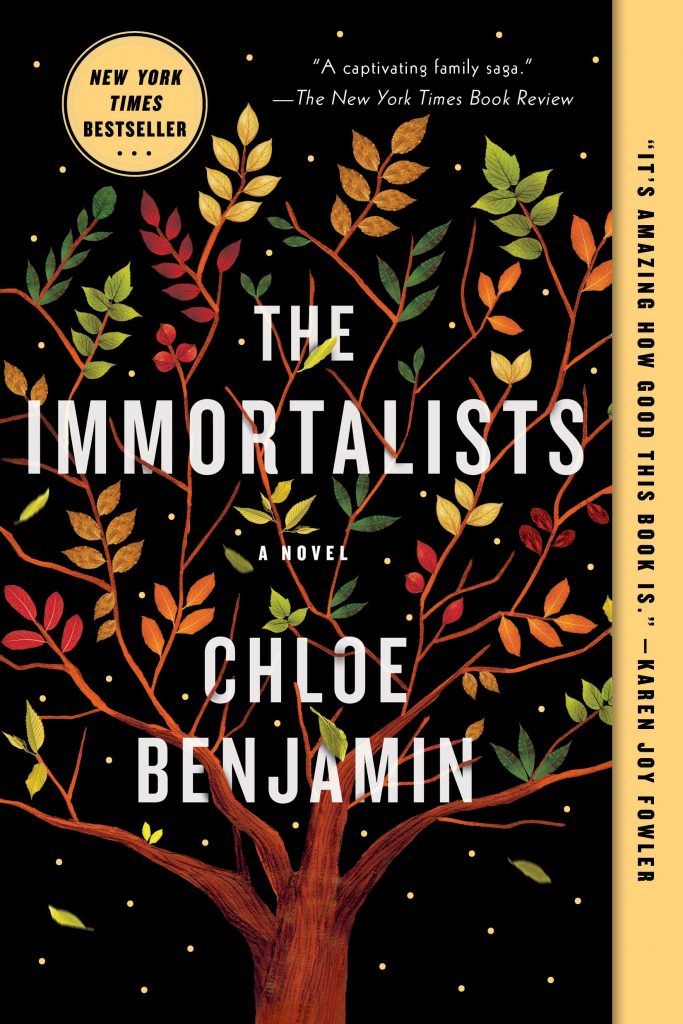 The Immortalists by Chloe Benjamin
A BEST BOOK OF THE YEAR: The Washington Post, NPR, Entertainment Weekly, Real Simple, Marie Claire, New York Public Library, LibraryReads, The Skimm, Lit Hub, Lit Reactor
AN INSTANT NEW YORK TIMES BESTSELLER
"A captivating family saga."–The New York Times Book Review
"This literary family saga is perfect for fans of Celeste Ng and Donna Tartt."–People Magazine (Book of the Week)
If you knew the date of your death, how would you live your life?
It's 1969 in New York City's Lower East Side, and word has spread of the arrival of a mystical woman, a traveling psychic who claims to be able to tell anyone the day they will die. The Gold children–four adolescents on the cusp of self-awareness–sneak out to hear their fortunes.
The prophecies inform their next five decades. Golden boy Simon escapes to the West Coast, searching for love in '80s San Francisco; dreamy Klara becomes a Las Vegas magician obsessed with blurring reality and fantasy; eldest son Daniel struggles to maintain security as an army doctor post-9/11; and bookish Varya throws herself into longevity research, where she tests the boundary between science and immortality.
Both a dazzling family love story and a sweeping novel of remarkable ambition and depth, The Immortalists probes the line between destiny and choice, reality and illusion, this world and the next. It is a deeply moving testament to the power of story, the nature of belief, and the unrelenting pull of familial bonds.
Thanks so much for reading with us and for all of your wonderful comments! We couldn't do this without you!! xo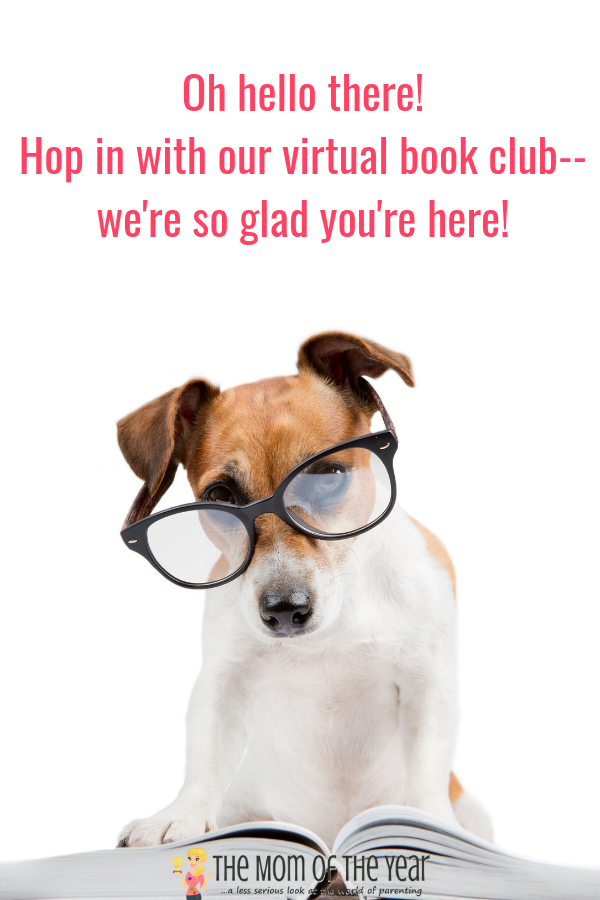 Thank you to Harper Collins for providing us with copies for review and giveaway for our 99 Percent Mine Book Club discussion! All opinions shared are always 100% our own!